I don't know about you guys, but this summer has pretty much sucked. Yes, yes, life is what you make it and all that rot, but truth be told, I've been eagerly awaiting the fall for two big reasons: 1) ND returns to the gridiron and 2) Battlestar Galactica's third season.
Even without such notable hotties as QB Brady Quinn (right) and S Tom Zbikowski, I'd be excited about the upcoming season thanks to head coach Charlie Weis. Its been 11 years since I graduated from Notre Dame but I haven't been this excited about a new season since those halcyon undergraduate days. Ah college. Ah college men! Fortunately, the season starts this weekend, so I don't have long to wait before I get my fill.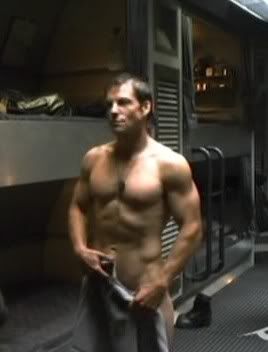 I'm not so lucky when it comes to Galactica -- the new season doesn't start until October 6th. What is it exactly about Galactica that enthralls me? The writing is excellent, the plot lines intricate and well developed. There are characters I love, characters I've hated. Throw in certified beeves Jamie Bamber and Tahmoh Penikett, who play Apollo and Helo, respectively, (both of whom are firmly in the "characters I love" category) and you've got the formula for one of the only remaining television shows that I watch. Actually, because I end up downloading the episodes on iTunes on Saturdays rather than actually watching them on TV, that makes Gilmore Girls the only TV left worth watching.
As I mentioned, the new season doesn't begin until October 6th. In that time, I'm going to be counting down, looking at my most and least favorites things from the miniseries and first two seasons. I gotta do something to pass the time, right?