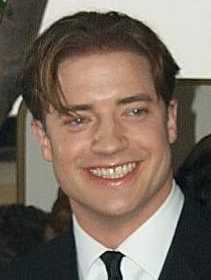 I was flipping through channels today, a rarity for me as I don't watch TV, and
The Mummy Returns
was showing on USA. I marveled at how annoying the little kid was and remembered that the guy who played Ardeth Bay, the mysterious Arabic warrior in both of the
Mummy
films,
Oded Fehr
, was also in
Charmed
for a pretty significant story arc during the later years.
Finally I came to the so-called "star" of the film, Brendan Fraser. He's an attractive guy, I remember him in films like
School Ties
(which starred other budding superstars such as Matt Damon, Ben Affleck, and Chris O'Donnell -- speaking of which, WTF happened to him? I saw some recent photos of him and the 21st Century has NOT been kind) and
With Honors
and I remember thinking that the guy was a talent actor with quite a future, even as late as 1998, in
Gods and Monsters
.
Certainly he's done enough work to be considered "successful" but while you can forgive a movie like
Airheadz
early in his career (besides, it had Adam Sandler in it...), there are way too many movies like
Dudley Do Right
,
George of the Jungle
,
Monkeybone
, and
Looney Tunes: Back in Action
. And yet another sign of the apocalypse --
The Mummy 3
is in pre-production.
What happened? How did such a promising career go so horribly wrong?
Labels: celebrities, crazy breeders, life, movies