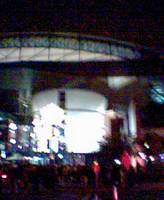 Last night I went to watch Notre Dame play in the Insight Bowl in Phoenix. For those of you who don't have the full lowdown on my background, I did my undergrad at Notre Dame. For those of you who aren't familiar with life at Notre Dame, the reality is that life at Notre Dame revolves around football. Any time the team ends up coming to town, I feel an obligation to participate. Football. How butch!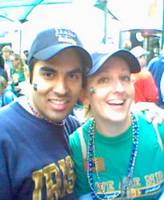 Game day at Notre Dame consists mainly of drinking large quantitites of alcohol and hanging around with lots of drunk straight people. Now, I wish I could say that it's like living through the
BMOC
show where countless of shirtless college hunks parade around for your viewing pleasure. If you're back on campus and it's September, you actually do get to see a fair amount of flesh, but most of the time you see a lot of families and a much larger percentage of older men with big beer bellies than you would otherwise find in the general population. Fortunately, many of the players themselves are quite attractive and you can usually find some very tasty male cheerleaders.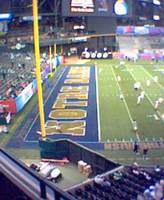 Of course, I didn't spend all my time boy watching. To the contrary, aside from a hot guy cheerleader (who I only got to see briefly), there really weren't too many guys out there that piqued my interest. Instead, I took some time to reflect on what my life might have been if things had been a little different and I had slept with women.
One of the things I really enjoyed was the feeling of camaraderie with thousands of people with whom I would never have otherwise come into contact. Everyone was dressed for the occasion, clad in similar and yet festive attire. As the DJ played, we socialized with friends, reconnected with others we hadn't seen in a while, and made new acquaintances. As I drank another bottle of bad domestic beer, it seemed like straight life wouldn't be too bad...
Of course, my moment of revelry was quickly shattered when the group of scantily clad, incredibly skanky women hawking alcohol sauntered by. Apparently, the alcohol promoters are hiring bad drag queens to teach their models to apply makeup. The DJ made matters worse by playing such classics as, "Girls, Girls, Girls" and "Fight For Your Right to Party" and had the nerve to play a Johnny Cash song that was not "Ring of Fire." If you're going to play Johnny Cash, you are legally required to play "Ring of Fire." I checked.
It became crystal clear to me that straight life is not for me. If I want to hang around with thousands of people I've never met who are all wearing similar things while drinking heavily, I think I'll make the trip out to Palm Springs for White Party. The music will be better, there will be hordes of incredibly attractive men... maybe I'll even run into that hot cheerleader...