I have to admit that I didn't expect this day to ever come. I never thought it would come to this. And I now I realize that its far worse than I had ever imagined.
The past few times I've walked through Blockbuster and among the new releases, I've noticed something peculiar -- Oh my stars and garters, it's
The Book of Mormon Movie
. Now, once I got over my surprise, I remember thinking to myself, hey, it's not something I would watch, but if I can go rent a copy of
Saving Ryan's Privates
, our LDS brethren should be able to entertain themselves. The more power to them -- as long as I don't have to watch it. (Although from the picture on the front of the box, the main character is grade-A BEEF!)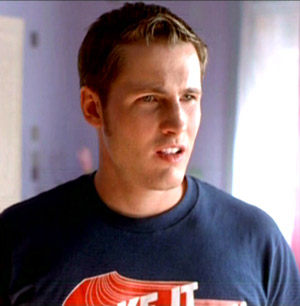 What's really alarming is that somehow they made it under my radar... and I actually enjoyed it. What's more, they used two weapons I never thought they could master... classic literature and hot men.
I just finished watching Excel's 2003 version of
Pride & Prejudice.
I figured that since
Clueless
was a loose adaptation of Jane Austin's
Emma
, that I'd enjoy this as well. This movie was light and airy, much in the style of
Clueless
, but included two incredibly attractive Mormon looking boys as supporting characters (
pictured right and below
). Now, in comparison,
Clueless
starred the incredibly charming, quirky, yet gorgeous Paul Rudd. The leading man in
P&P,
Orlando Seale
,...
well, I wouldn't exactly gnaw my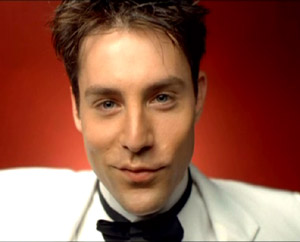 arm off if I woke up next to him after a night of drunken debauchery, but he can't compare to Paul Rudd. He can't compete with his two supporting men, either.
So, the movie has a couple of major pieces of young flesh to keep your attention. BIG PLUS. How does it hold up story-wise? Oddly enough, it's not too bad. My biggest question is how our leading man, Darcy, makes the magical transformation from being an insufferable, self-centered, pretentious creep to a charming, likable guy. It just sort of happens without any real explanation. Of course, I was too busy watching Jack (
left
) and Charles (
above
) to really care.
So, I'll also admit that there were some red flags that suggested that this movie was trying to convert me even before I looked on the Web and found that it was also titled, "
Pride and Prejudice: A Latter Day Comedy
." Clue #1 - It's set in Provo, Utah.
DING DING DING!
Clue #2 - All the characters go to church.... TOGETHER.
DANGER WILL ROBINSON!
Clue #3 - It's set in PROVO, UTAH. I know I already said that, but hey, I should have figured it out from that alone... I mean, Salt Lake is one thing, but Provo?
Through it all, I just can't get their perverted lifestyle out of my head... It's giving me this uncontrollable urge to go find a hot Mormon guy and get right to work on starting a large family... I promise I won't stop until he's pregnant.